Sacagawea Custom Modular Hybrid Displays
The Sacagawea Custom Modular Exhibits have taken the modular trade show exhibit world by storm, and can truely compete for the title as "most popular new exhibit system of the decade." There are many reasons for this, but first of all you think of value when you think of Sacagawea because its made from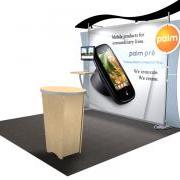 lightweight, but strong, hollow aluminum tubing. This provides a material which can be formed into shapes to create a system which first and foremost needs no tools for set up. That makes Sacagawea a first in the display world for modulars exhibits that don't need any type of tools for set up.
But what else does the Sacagawea have to has made it such a success? Accessories! This is a economical system that has a full range of accessories that allow it to compete with systems many times its' price point. That brings credible value to the product line as a whole.
First take a look at the overhead accents. You can have your choice of a straight, wave, or arched canopy and the good news here is because it's made from fabric which covers a lightweight aluminum frame, the cover can be printed in any color or graphic pattern you'd like. However, if you want that area of your display to be just your company identification, you have the ability to choose between several different shapes of backwall mounted headers.
Now to amp up your presentation, consider a backwall monitor up to 26 inches in size witih a keyboard shelf underneath it to support a keyboard or mouse. All the locking channels in the Sachagawea system will allow you to add a Modul literature pocket wherever it needed.
Now how about that pedestal or counter you need out by the aisle? We have two very distinct and practicle solutions for you. Once is our lightweight open back counter with storage and a graphic, and the other is our oval top counter with a tapered base and locking storage. Either will be excellent choices to finish off the smart new look of a Sacagawea trade show exhibit.
For these and other trade show exhibits, click here.