Perfect 10 Custom Modular Hybrid Exhibits
Perfect 10 Custom Modular Hybrid Displays A dynamic new looking trade show exhibit concept that does what no other modualr hybrid in the market does which is "differentiates itself from the pack." How you ask?
Just look a the S shape curve in the backwall and you immediately know that something is different.
The Perfect 10 is an exhibit that blends large graphics, sexy curves, and portable assembly into a stunning trade show exhibit at less than custom prices.
Perfect 10 Portable Custom Hybrid Trade Show Exhibits
Lightweight and portable show display
Revolutionary shape
Structurally sound Modul aluminum extrusions
Handy and sleekly designed accessories
Tension fabric graphics (also lightweight and space efficient!)
Packs into 1-3 portable roto-molded cases
Components fit neatly into reusable laser cut foam jigging

Why custom modular? The Perfect 10 is able to utilize the best of intelligently designed and manufactured components with the new tension fabric applications to create a look that has never been utilized in the trade show exhibit industry before, which is the reason for the exclusive patent granted to Classic Exhibits, for the Perfect 10-S curve design. But with this new exciting design, Classic has mastered an entire aray of stylish new components that heighten the visual appeal of the Perfect 10 to keep the brand and your product fresh in peoples minds; show after show. These are not accessories that you see in competitors booths at every event you attend. No, they're distinctive and can be customized so that they become part of your brand which in the end, will tend to reinforce who you are in the industry you work in. Speaking of reinforcing your brand, here is an exapmple of what the signage can look like; from circles, rectangles, to trapazoid shapes. In the end, the graphics can be created in most any size and shape and still work well with the other hardware because the Perfect 10 trade show exhibit sysem can connect accessories in a variety of ways and still look like they belong. And as you might expect, any of the distinctive Perfect 10 Trade Show Exhibits can be transformed into a 20 foot display to allow you to grow into a larger booth when you need to.
Perfect 10 Portable Custom Hybrid Displays do more than just show...
They show off!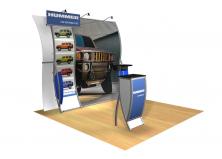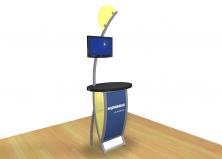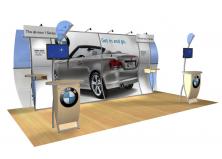 For these and other trade show exhibits, click here.
Perfect 10 H2
Perfect 10 H3
Perfect 10 H4
Perfect 10 H5
Perfect 10 H6