The Magellan Miriacle
The Magellan Miracle is one of a series of new trade show exhibits from Classic Exhibits in Portland, Oregon. These new high profile trade show exhibits are produced with metal, fabric, wood, acryhlics, and the right splash of color to create a marketing marvel that's sure to attract attention in any venue. But what makes the Magellan a Miracle?
Well, for starters it has that big graphic image that is sure to attract attentionat first glance.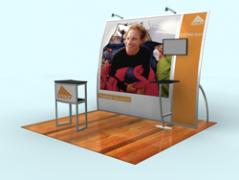 Second, it's lightweight and very easy to transport which means an immediate savings on transportation and drayage costs at your next show.
But how difficult is it to adapt the Magellan trade show exhibit to video monitors for slick in booth presentations? Not very is the answer. Your monitor will quickly attach to the display backwall with a handy universal monitor mount with the cables feeding through the graphic wall and to the unit feeding the signal. The presentation is easy too with a solid keyboard/mouse counter underneath for professional presentations each and every time.
Accessories are a snap as well with the Magellan Miracle trade show exhibit. system. The Magellan's packaging is yet another feature worth noting. No guessing what goes where only to realize that there's one piece left over which more often than none gets shoved into a case and eventually damaged because it wasn't protected from the other components or the left over piece damages a graphic which is even worse news.
The Magellan Miracle is a display system that you can grow with too. When you need to step up to a 20 foot inline trade show exhibit, it's an easy move. No need to junk what you previously purchased just because you've grown. The result is seamless and blends together perfectly as well.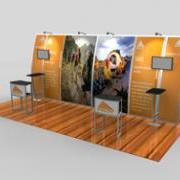 As time goes on, products evolve and the need will eventually come when you need to upgrade your graphics. You'll be pleased to know that you can replace every squaare inch of your dye sublimation graphics for less than the cost for graphics for a 10 foot pop up display. Now that's affordable!
In the end, with the lightweight nature of the booth, ease of set up, and affordability to maintain verses other systems, the Magellan Miracle trade show exhibit is a clear choice for your companies future.
For these and other trade show exhibits, click here.