Aero Overhead Tension Fabric Structures
Aero Overhead Tension Fabric Structures: Are one of the most dramatic ways that you can get attention to your island trade show exhibit space at a major exhibition. Let me tell you a few things about them.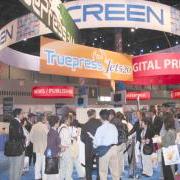 They come in all sizes and shapes although most are ordered in typical shapes such as circles, squares etc.
Tension Fabric Structures can also be custom designed to your specific size and shape needs.
Tension Fabric Structures consist of three (3) elements which are the frame, dye sublimation fabric graphic, and hardware which connects from the frame to the connecting point in the building you're setting up in.
TFS are light weight and easy to assemble
All structures have slip fit push button hardware framework.
Beyond this, why are overhead tension fabric structures a major benefit for exhibitors who are exhibiting in shows in large venues with hundreds of other exhibitors? The answer is quite simply; recognition, recognition, and recognition! When you attend trade shows, and especially your industries anual major event, this is the opportunity to:
Get noticed where you might tend to blend into the background otherwise.
Create brand awareness by carefully utilizing your TF structure to spotlight your brand.
Overall image awareness which includes your trade show exhibit along with all other forms of product or company branding you endeavor to display during the show.
Overhead tension fabric structures are available in any size or shape you want, but are sold mostly in about 8-10 predefined shapes which covers most trade show exhibiting needs. They can be printed on the outside and on the inside, plus you can also cover the bottom of the structure if you don't want those looking up to be able to see through the structure to the ceiling of the exhibit hall.
One other accessory has become popular in recent years, which is the rotating motor which can be attached to the harness and to the cables connecting to the ceiling supports. This devise can give your overhead structure a turning motion which is always a plus when it comes to getting noticed. It does require that a power outlet be connected as well, which is an additional expense. These and other exciting accessories can assist you in getting the most value possible out of your trade show exhibit investment.
For these and other trade show exhibits, click here.